The Miracle Worker
February 21, 2020

-

March 8, 2020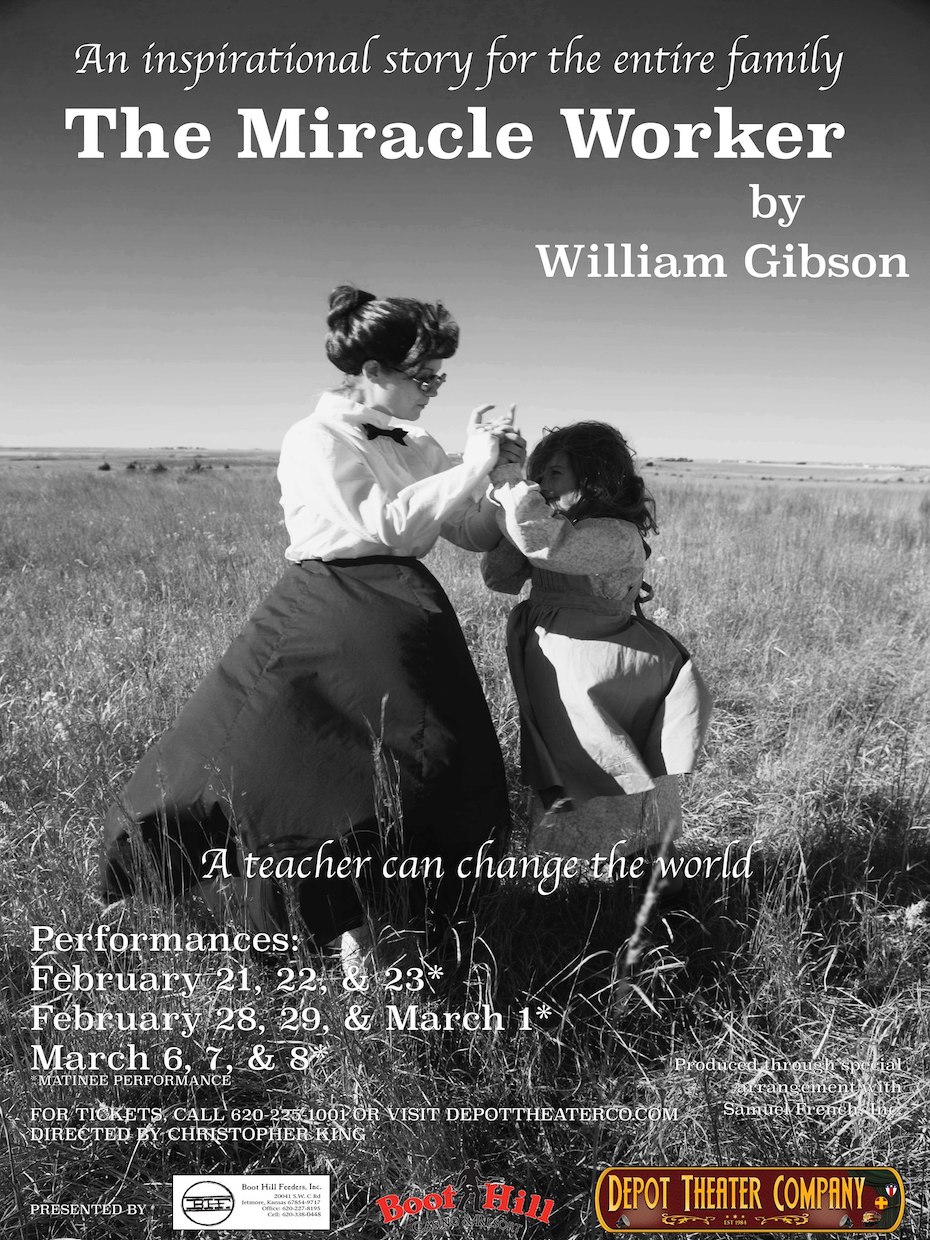 In Tuscumbia, Alabama, an illness renders infant Helen Keller blind, deaf, and mute.  Pitied and badly spoiled by her parents, Helen is taught no discipline and, by the age of six, grows into a wild, angry tantrum-throwing child in control of the household.  Desperate, the Kellers hire Annie Sullivan to serve as governess and teacher for their daughter.  After several fierce battles with Helen, Annie convinces the Kellers that she needs to weeks alone with Helen in order to achieve any progress in the girl's education.  In that time, Annie teaches Helen discipline through persistence and consistency and language through hand signals, a double breakthrough that changes Helen's life and has a direct effect on the lives of everyone in the family.
PERFORMANCE DATES: February 21 – March 8, 2020
CAST:  A Doctor – Jim Johnson, Kate Keller – Gayla Kirmer, Captain Keller – Kyle J. Hager, Martha – Addison Heeke, Percy – Zeke Stammer, Helen – Charlie Stammer, James Keller – Lewis D. Mize, Aunt Ev – Dale Kesterson, Viney – Elaine Felsburg, Dr. Anagos – Bryan Stammer, Annie Sullivan – Mistie Hitt, Blind Students: Andrew Mueting, Chandler Hanks, Mariah Biltz, Suzanna Biltz, Boy's Voice – Hudson Schmidt
CREW: Director – Christopher King, Assistant Director – Mellisa Stammer, Stage Manager – Hannah Schroeder, Assistant Stage Manager – Roger Wayne Brush, Light Board Operator – Zaida Garcia and Don Steele, Sound Board Operator – Zaida Garcia, Costume Design – Dee Dee Miller, Properties – Caroline Johnson, Mic Wrangler – Dustin McCullough, Stagehand – Autumn Biltz, Scenic Design – Don Steel and Val Henton, Sign Language Coach – Sharon Grice, Photographer – Joshua Roesener
MENU: Grandma's lemon jello, southern style oven baked fried chicken, scalloped potatoes, baked baby carrots, peach cobber with icea cream.  Catering provided by Jennifer Kirby and Depot Theater Volunteers.
---
Gallery