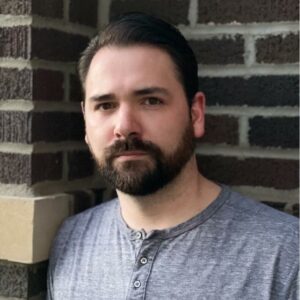 Lewis Mize is originally from Texas and received his B.A. in Theater from Northwestern Oklahoma State University studying under Kimberly Weast. He has called Kansas his home since 2008, which is also when he first joined the Depot Theater as a company member. It was that year that he was in the Christmas production of It's a Wonderful Life: The Live Radio Play, directed by Gayla Kirmer. He was an active member and served previously on the Board as a Company Liason until he moved to Wichita, KS in 2013.
While living in Wichita from 2013-2017, Lewis had the opportunity to perform and be involved with several theaters including but not limited to Wichita Community Theater, Signature Theatre, Guild Hall Players, Wichita Center for Performing Arts, Forum Theatre, Kechi Playhouse, Wichita Shakespeare Company, and travelled to Texas for a production of Bus Stop for the Classic Theatre of San Antonio. During that time he was nominated for a total of seven Mary Jane Teall Awards (Wichita Theatre Awards). He has also worked on several film projects, television, commercials, and music videos. He received Honorable Mention honors at the LA Shorts awards for his work in Sparkleville.
Lewis returned to Dodge City in 2018 and has been active within the community ever since. Currently he is the Director of Residence Life and Judicial Affairs at Dodge City Community College. He is supported in his endeavors by his fiancé Amanda and her two amazing kids Cheyanne and Aidan, as well as their fur family which includes Stella, Brodie, Wizard, Squeakers, Pluto, and Neptune.
Lewis wants to thank all of you for your continued support of live theatre. We wouldn't be able to do this without you.