Susan Williams
Board Member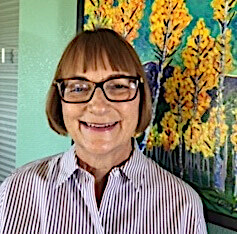 My husband and I live outside Montezuma Kansas where he farms and I enjoy life as a retired school librarian of 24 years. I'm very active in the Montezuma United Methodist Church acting as choir director and chairman of the committee on ministries. I have a bachelors in political science and a master's degree in education with emphasis on library science. Someplace in the middle there, I earned teaching and math credentials from Saint Mary of the Plains.
Throughout my life I've been very active in 4-H, Brownie Scouts, and as a school board member. I've served on other boards including the Kansas Association of School Librarians and the Western Kansas Community Foundation. I started a book club about 10 years ago and it's still going, My Covid quarantine time includes Zoom meetings with friends and tutoring my grandsons in math.
Orville and I consider the best crop we ever raised was our three daughters; Jill, a music therapist; Tracy, a family medicine physician; and Beth, a successful business woman. The Arts are a very important part of our lives,
A few years ago I attended a Depot Theater production with my daughter and her husband. They were very impressed with the production and the facility. My daughter said to me, "Mom, this is something you need to really support. It is a wonderful asset to this community." I've loved attending shows and even made it a point to create a table at the Guild's Holiday Tables event.
At the beginning of my retirement I made a pledge to myself that I would not serve on more than one local board and one regional board, I still serve on the Montezuma Hospital District Board as chair, but after serving six years with amazing people on the Western Kansas Community Foundation's board, I knew the Depot board would bring yet another set of amazing people into my life, so I'm happy to join the board as we navigate through these times.