Marda Hastings
Office Administrator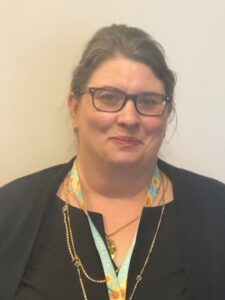 Marda Hastings was born and raised in Aztec, New Mexico. She left New Mexico to attend college at Saint Mary of the Plains College in Dodge City, where she earned a B.S. of Elementary Education. She currently lives on a farm located between Dodge City and Jetmore. When asked why she chose to live in Kansas she replies, "you can't move farm ground!"
Marda has an array of work experience from teaching computer skills at all school levels, including outreach classes for Dodge City Community College, to facilitating the Bright Beginnings Early Headstart Program to helping maintain a cow/calf herd and cultivating plants in her greenhouse.
Marda and her husband, Brian, have two adult daughters. Michaela is a social worker at Wesley Hospital in Wichita and Briana is a dispatcher for Ford County Communications. Brian works as a behavioral consultant for USD 443, practices Marriage and Family Therapy and operates Poverty Hill Ranch.
Marda enjoys theater but prefers to be behind the scenes, as she was when volunteered as costume mistress for several Dodge City High School musicals (Annie, 7 Brides for 7 Brothers, Footloose and the Sound of Music). She is happy to help behind the scenes in a new role, working as the Depot Theater's Assistant Administrative Director.