Gayla Kirmer
Board Member - Company Liaison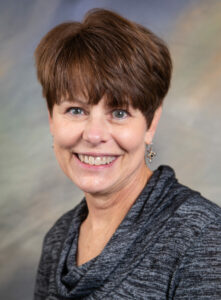 I grew up on a farm near Kingsdown. My interest in theater began in grade school where I was involved in plays beginning in Kindergarten through 4th grade. When Kingsdown closed, I attended school in Bucklin where I was involved in Forensics all through high school.
While attending Fort Hays State University, theater was still an important part of my life and studies. After graduating, I worked at KGNO and got involved with the "Way Off Broadway Players." When the Depot Theater opened, I auditioned for the first production in the new facility, "Anyone Can Whistle" and I have been involved ever since. I love being on the stage, but I've also enjoyed directing and stage managing.
I've also been house manager, mic wrangler, light/sound board operator and programmer. I enjoy being behind the scenes as much as being on stage.
I live in Spearville with my husband, Kurt, and involved in many community activities as well as serve on the Manna House board in Dodge City. In my spare time, I play piano and sing at St. John the Baptist Catholic Church and enjoy spending time at the lake.
I am very excited about serving on the board for the Depot Theater and am looking forward to a new and exciting future for the arts.