Gayla Kirmer
Board Member - Company Liaison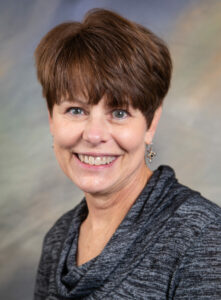 Gayla grew up on a farm near Kingsdown. Her interest in theater began in grade school where she was involved in plays beginning in Kindergarten through 4th grade. When Kingsdown closed, she attended  school in Bucklin where she was involved in Forensics all through high school.
While attending Fort Hays State University, theater was still an important part of her life and studies. After graduating, she worked at KGNO and got involved with the "Way Off Broadway Players." When the Depot Theater opened, she auditioned for the first production in the new facility, "Anyone Can Whistle" and has been involved ever since. Gayla loves being on the stage, but she's also enjoyed directing and stage managing.
Gayla has also been house manager, mic wrangler, light/sound board operator and programmer. She enjoys being behind the scenes as much as being on stage.
Gayla lives in Spearville with her husband, Kurt, and is involved in many community activities as well as serving on the Manna House board in Dodge City. In her spare time, she plays piano and sings at St. John the Baptist Catholic Church and enjoys spending time at the lake.
Gayla is very excited about serving on the board for the Depot Theater and is looking forward to a new and exciting future for the arts.