Bonnie Castelli
Board President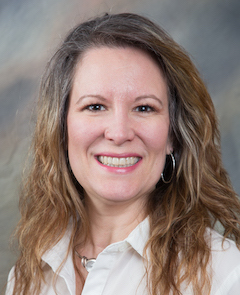 It seems like I've been performing one way or another ever since I can remember. And loving every minute of it! As a child I sang many times with my father at church and started piano lessons at age 5. When I moved on to high school I competed in vocal and instrumental competitions (including State Choir) at school and extracurricular, all while learning to play 5 different instruments, still singing at church and playing piano. I led a group called Clown Corps for 2 years which performed at community events and other private events. I also participated in a show choir as well as the plays and musicals that the drama department produced. In college I continued show choir (taking national championships in 1988) and band, still played piano, sang at church, and even learned to play the organ!
When I moved to Southwest Kansas in 1995, I discovered Boot Hill. History has always been an interest of mine so when I found out I could audition for Miss Kitty, I knew I had found a new love. I did this for several years, eventually becoming the Entertainment Director. Unfortunately, as a single parent I had to make the difficult decision of doing something I loved versus accepting a job elsewhere that could provide more for my family.
My next "performing" venture would come in the way of speaking engagements for my employer. As I traveled all over the state of Kansas, I still sang at church or wherever I could and played piano. I started playing organ for the 1st Presbyterian Church in 2003 eventually taking on the additional role of choir director in 2010. During this time I also started performing with a very popular local band, Ask Vinnie!, which kept me even busier.
And then, I stumbled upon the Depot. I immediately wanted to get involved and was so excited there was a community theater! Sadly though, after performing a couple of shows, I once again had to make a difficult decision and took a few years leave from the theater. During this period, I recorded a blues album and started performing with another local band, Mad Jack and then Thief. In 2018, I accepted another organist position at the First United Methodist Church in addition to the Presbyterian Church. My life was full of music again but not theater, and I missed it so!
During an innocent conversation in early 2019, I was encouraged to get involved once again with the theater. I wasn't sure if my schedule would allow it but I knew how much I missed it, so I knew I would find a way. Needless to say, here I am.
I am the Director of Life at the First United Methodist Church, organist for the 1st Presbyterian Church and First United Methodist Church, co-owner of Southwest Screening Solutions, LLC, daughter, sister, wife, mother, Nana, friend, actress, pianist, singer, lover of all that is life. Whereas my life is full of music and creativity, and the many, many people that I love, I believe it's so important to be part of the backbone that sustains the performing arts in Dodge City. Performing arts whether its acting, singing, or playing an instrument is so incredibly important. It's an opportunity to engage the mind, the body and emotions into a collaborative expression of all that it means to be human. The arts foster lifelong learning skills such as creativity, collaboration, communication, critical thinking, and problem solving. I am honored to be a part of the Depot Theater and look forward to helping to maintain its heritage and its future.